So what's up with my CoviDira?
Is your Israeli property performing well in the current corona crisis? I have had many conversations with my clients and friends over the past few months during the CCC as to what to expect from their Israeli properties and what we believe will happen in the short to medium term in the Israeli property market.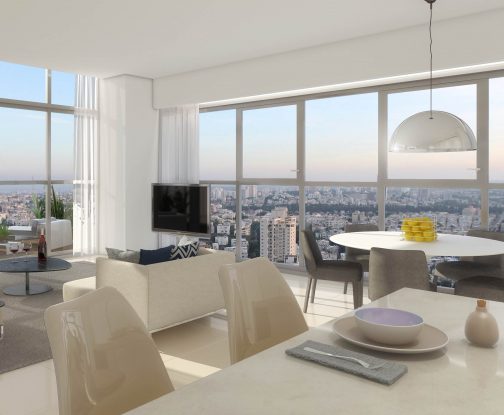 This question has become even more interesting with the announcement this week by the new finance minister Yisrael Katz, that he intends reducing the purchase tax on apartments for investors and foreign buyers. Let's start with a bit of background. Ever since Stanley Fisher was the head of the bank of Israel, the Government has been trying its best to reign in the rising cost of housing. Fisher instituted a limit on how much a foreigner or second time home buyer in Israel could borrow on a property to 50%. It did not have that much effect on the market because most foreign buyers are motivated by the safety net or Zionist ideals as opposed to the return on their investment. It was not uncommon for me to receive a call from a potential client telling me he needs 3 or 4 apartments for his kids "just in case". As a result, very few of them were taking big mortgages, if at all.
When Kachlon became finance minister he decided to increase purchase tax for foreigners to a minimum of 8%. This was a huge jump as previously it could be below 3% and often zero. He then instituted two plans for first time home buyers that should have been successful and indeed for some young families they enjoyed discounts of as much as 30%. However, the goal of stopping or reducing prices in the market was not achieved.
Depending on what you click on in Google, you will find differing views of how much real estate has risen in the past 5-10 years. Some say it has more than doubled in 10 years but I believe that reflects a very small sector of the market. Based on the figures I have of deals that we have done over the past 5 years, I believe that prices have gone up an average of 5% p.a. and that is  despite all of the above mentioned efforts to keep prices down.
Current estimates are that in 2050 we will be close to 16m people in Israel"
If one looks at the reasons that prices have not come down in Israel, you will find two major contributing factors. Firstly interest rates are at an all-time low. When I first started in this business over 20 years ago I had difficulty convincing someone that a 2.5% rental yield was attractive when they were receiving 7% on their cash in the bank. The second factor is the positive population growth that Israel achieves per annum. While doing my research I found an article from the CBS stating that the population in Israel in 2030 will be between 9.6m to 10.6m. It looked quite impressive until I saw that the article was dated 2008. But looking at current figures, in 2019 the population of Israel was already 9.1m and with a growth rate of just under 2% p.a. we're looking at a population of close to 11.25m in the year 2030. Current estimates are that in 2050 we will be close to 16m people in Israel. That's a lot of felafel.
And then out of the blue the world changed when this invisible creature invaded our lives and created corona chaos. Don't get me wrong. Israel has seen its fair share of disasters in the past few years including the election merry go round, but despite that the real estate market remained strong. We are facing uncertainty at the moment and generally a real estate market doesn't like uncertainty. After 5 months, and despite the difficulties that we are encountering, Israel's real estate market is still showing signs of resilience.
We run a growing property management portfolio and our experience over the past few months has been very interesting. Already in March I told the staff to be vigilant in terms of communicating with our tenants and to look out for signs of any problems. When a tenant called to say that due to the corona crisis they would have difficulty paying the rent, we offered them the option of dividing the rent into a few payments. In the end very few tenants took us up on our offer and those that did have been compliant. It's important to communicate with the tenants to let them know that we are flexible, but so long as they are in the apartment, rental must be paid.
For the first time since we started in this business, I have had to reduce prices in Tel Aviv in order to rent out apartments"
Surprisingly we have found the demand for rentals to be quite strong. This excludes Tel Aviv and Jerusalem. For the first time since we started in this business, I have had to reduce prices in Tel Aviv in order to rent out apartments. In addition, we have had a lot of calls from potential new clients who are looking for professionals to look after their properties. Suddenly, getting updated information on their investments is quite important and their aunty from Haifa can't really deal with a problem tenant.
Now coming back to the question of the short to medium term outlook for the market. The reason that finance minister Katz has decided to take this step ( which as of writing this article still needs to be passed in the Knesset), is because the market for new apartments, which are favored amongst investors, has dropped off dramatically. In April this year the amount of investment apartments purchased was down over 75% from April last year. However, in April we were in lockdown which contributed to this figure. May and June figures have not yet been released but I am sure they will show a decline, just not that dramatic.
We need to see where this corona monster is headed and what impact it will have on the market"
There is a great TED talk which discusses why procrastinators make better decisions. If that is true, then I am sure to be the best decision maker there is. The theory behind it is that while taking your time to decide, you gather more information which allows you to make a better- informed decision. I believe now is the time to procrastinate a bit. We need to see where this corona monster is headed and what impact it will have on the market. For those of you who contacted me telling that you are buyers at a 25% discount, I think you are going to be disappointed. But when this storm settles and an antidote is found, I would not be surprised if we see a rush on the market and a spike in prices, because interest rates are not going anywhere anytime soon and with everyone working from home and spending more time with their partners, that population increase may be a lot higher than we are predicting.
Oh and one last thing. As a result of this corona chaos, people are spending a lot more time at home and the concept of home office is gaining popularity. This is good news for our investors who own rental apartments. So, while we procrastinate for a few months, we will be looking after the properties that we manage with extra care and be on the lookout for good quality real estate that will be easy to rent out to good tenants. Feel free to contact us for a chat or if you want your Israeli investment to be in good hands.